At BrightonSEO I talked about Third-Party tags, their impact on site-speed, and some of the approaches I encourage my clients to use to reduce this impact.
As it's hard to fit everything into a twenty minute talk, this post expands on the talk and includes some of the points I didn't have time to cover.
From Analytics to Advertising, Reviews to Recommendations, and more, it's common for sites to rely on Third-Party tags to provide some of their key features.
But there's also a tension between the value tags bring and the privacy, security and speed costs they impose.
I'm focusing on speed but if you want to learn more about the other aspects, Laura Kalbag and Wolfe Christl often cover the privacy concerns, and Scott Helme sometimes covers the security issues.
What does a Tag Cost?
When I'm helping clients to improve the speed of their sites one of my first steps is to test the site with and without tags using WebPageTest (you can also use this approach to test the impact of individual tags).
This gives me an indication of what gains might be made by optimising the implementation of tags.
Using OPI, the nail varnish company as an example… when third-party tags are removed their pages get faster – on product pages the key image appears about a second sooner, and other content such as the heading text, and brand logo also appear sooner.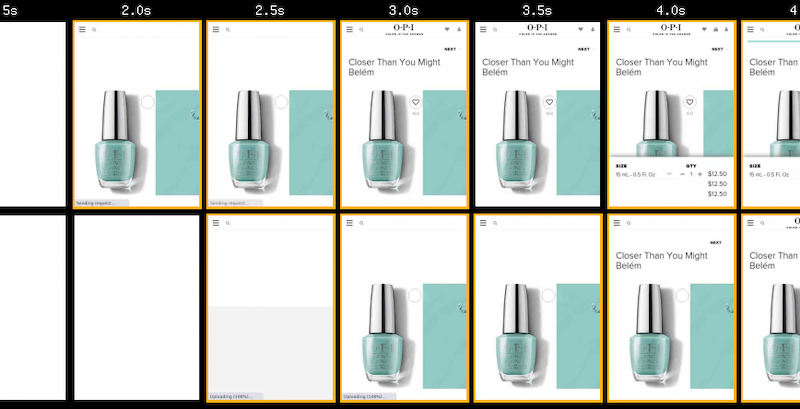 OPI with 3rd-Party Tags blocked (top), and as loaded normally (bottom)
How Tags Impact Site-Speed
There are two ways tags impact site-speed – they compete for network bandwidth and processing time on visitors' devices, and depending on how they're implemented they can delay HTML parsing
This partial waterfall from WebPageTest illustrates the costs for fetching and executing the script.

First there's a 300ms delay while the browser connects to the third-party (cyan, orange and magenta segments), then the download of the script takes a further 1,100ms (beige segment), and then the script execution takes a further ~200ms (pink segments on the right)
The dark sections of the beige line are where data is being received, and the light section where there's no data – these extended light sections are an indication that this tag is competing for the network or the server it's hosted on is slow.
If the script is cacheable then the cost of the network connection and download should only affect the first time it's loaded in a session but the cost of the execution time will apply to all pages that include it.
Tags can also trigger further downloads, sometimes these may be calls to an API, other times they may be adding extra scripts, stylesheets etc to the page.
Expanding the above example we can see it makes many further calls (the chart only shows a few) to an API (grey bars). These API calls are likely to be made on every page, and again the light areas in the grey bars indicate either network contention or a slow server.So

Tags are generally implemented as scripts, and a second aspect to consider is what effect they have on blocking HTML parsing.
By default script elements (such as the one below) stop the browser from parsing HTML until the script has been fetched and has finished running.